Northern Emirates Tour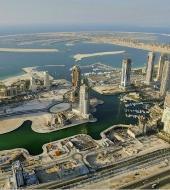 Coastal Caravan
This tour will take you to four of the seven Emirates. Ras Al Khaimah, Umm Al Quwain, Ajman and Sharjah will surprise you with their unique natural beauty. Our first destination is Sharjah, the cultural capital of the UAE. Visit the Maritime Museum that celebrates the region's maritime heritage and continue to the Heritage area where you have time to browse through the traditional Souk Al Arsa. We continue to Ajman, the smallest Emirate. After a visit to the beautifully restored Fort, we drive north along the coast to reach Umm Al Quwain. Photostop at this old Fort, a former seat of government and residence of the ruling family. En route to Ras Al Khaimah we stop at the camel race track. Our last photo stop will be at Jazirat Al Hamra. This is the country's last remaining traditionally built village and now a ghost-town.

Tour runs on:
Saturday, Full Day
(Arrival/departures times will vary according to pick-up location. The company will be in further contact for specifics).

Tickets sent by email!
Powered by Ticketbar